Blue Culture
Blue Culture is about adopting a mindset and behaviours that allow us to grow, improve and succeed as individuals, teams and as a company. Blue is about being accountable, having an open mind and seizing opportunities. It's about being the best version of you possible and about leading by example. The foundation of
our culture is built on three principles: be authentic, build trust, and make connections.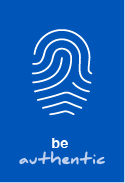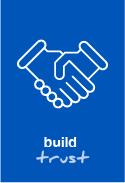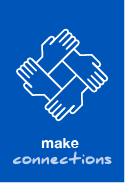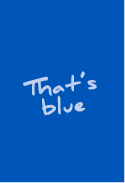 ---
More than just another software company
Since our inception over 15 years ago, QHR's promise has been to deliver innovative, market-driven technology solutions to unify healthcare professionals and patients and enable more efficient ways to deliver and receive healthcare services. We have three core beliefs that guide and inspire the delivery of our promise:
Positive Change
We're passionate about making a difference in our communities, in our healthcare system, and in peoples' lives. We push beyond the typical and strive for the extraordinary. We care about the process as much as we do the result, and our ultimate goal is to 'get it right' and be better today than we were yesterday.
---
People Driven
We build technology solutions for people, not processes. We solve complex problems and create products that make it easier to get things done. We listen to our users and let them guide the evolution of our technology while we steer. We are responsive and attentive and keep our development efforts focused around the needs of the market and our users, first and foremost.
Collaboration
We believe that many are better than one. We treasure working together over working alone. And we choose in-person conversations over sending an email whenever we can. There is a true appreciation for connecting with all relevant stakeholders and the outcome that produces when working on any project at QHR.
Get to know us
Visit our photo gallery to see us at work and play, and discover more of what makes QHR a unique place to be.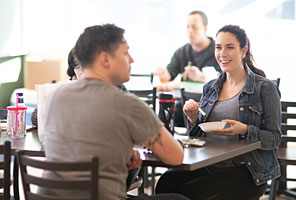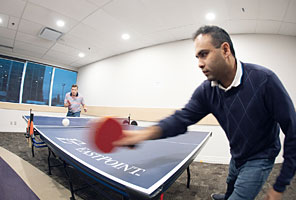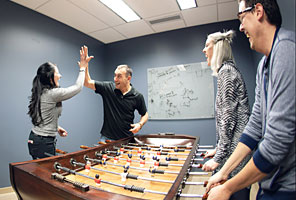 CAREER POSTINGS
We're always looking for great people and that doesn't stop if a position isn't open right now. Send us your information - we want to hear from you! Click here and see what's available