Patient Kiosk
Accuro®Patient Kiosk
The AccuroEMR Patient Kiosk is a valuable new addition to your practice.  Available as a freestanding, or desktop unit, this intuitive device will dramatically improve clinical efficiency and streamline office workflows with versatile check in configuration and online form capability. The convenience of Accuro Kiosk improves the overall waiting room experience for both patients and clinical staff.
Patient Check In
When a patient checks in without a scheduled appointment, they can be automatically directed to reception or allowed to register on the kiosk and they will be placed on your traffic manager as a walk-in.  The patient's demographics are displayed at check in, customized messages allow you to direct the patient to reception, if information is incorrect.
There are many configurable messages in the Kiosk including a general message that can be set at sign in, "Due to a recent increase in H1N1 cases we ask that you complete a screening form prior to your visit today".
Forms
Forms can queued before or after an appointment for completion by the patient on the Kiosk.
Touch screen capability easily allows the patient to complete and sign forms right on screen while they wait (i.e. consent forms or questionnaires).
Key Benefits
Reduce wait times at reception

Automate administration by allowing patients to complete forms

Collect sensitive electronic health information with proven technology

Improve patient satisfaction by providing a more convenient method of check in

Available as a tabletop or check in stand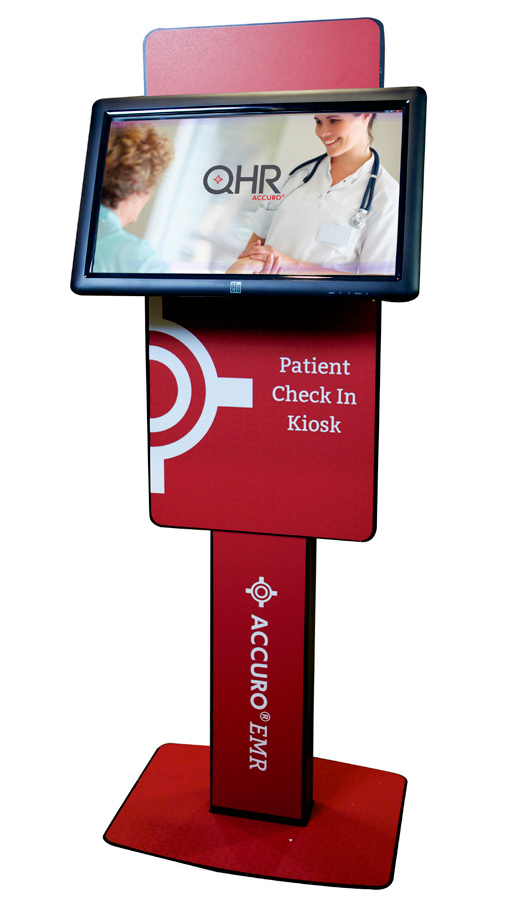 Fill out the form below to get more information: